Mt. Fuji Area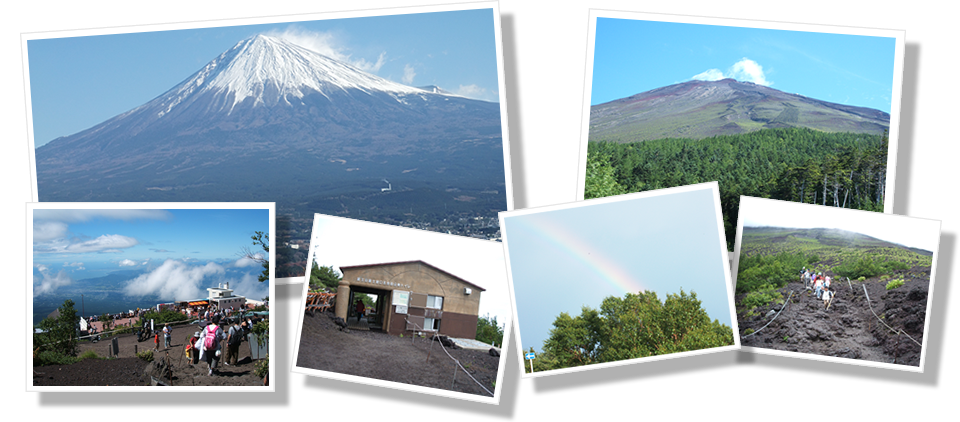 Fujinomiya-guchi Trail: The Shortest Way to the Summit
Length
5km from the 5th Station to the summit
*Shortest to the summit of all 5 Mt. Fuji trails
Max height from base to summit
3741 meters
*Greatest altitude gap in Japan from the highest peak, Kengamine, at 3,776 meters to the base at 35 meters
Climbing time
4 - 7 hours ascending (not including rest times)
2 - 3 hours descending (not including rest times)
Car restrictions
Private car restricted season: early July - early September
(All private cars banned except those with special permission)
*Related website: http://www.fujisan-climb.jp/en/
Parking lot
5th Station
(restricted from early July to early September and closed from late Nov to late April)
Mizugatsuka Parking Lot
Nishi-usuzuka Parking Lot
Shuttle bus
From Mizugatsuka Parking Lot to the 5th Station during the season with car restrictions (runs every 30 minutes)
¥1,150 for a one-way trip
¥1,500 for a round trip
Ascending(up): 6:00 am - 10:00 pm
Descending(down): 7:00 am – 10:00 pm
Related website: http://www.fujiyama-navi.jp/fujitozan/access/page/bus/lang/en/
Lodges
Available at each station(nearly equal intervals)
  *Reservation required
*Related website: http://www.fuji-tozan.com/04_lodge.html
Attractions
Mt. Hoei Crater at the 6th Station(2,693 meters)
Sengen Taisha Okumiya Shrine (rear shrine) and Mt. Fuji Post Office at the summit
First-Aid Center
8th Station
Tel: 090-2346-2238
※English-speaking guides are available at the 5th Station during the official climbing season.
Mandala Trekking Course (Ohachi Meguri)
Until the late 19th century it was believed that peaks around the volcanic crater of Mt. Fuji resembled mandala, the Buddhist universe. Therefore there once were Buddhist buildings and statutes such as Vairocana (Dainichi) dedicated at the summit and people circled the crater that looks like a bowl (hachi) as their pilgrimages. This traditionally religious trekking course is still popular.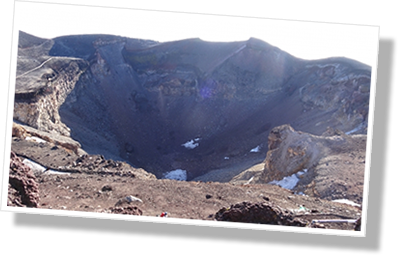 The Central Area(machi-naka)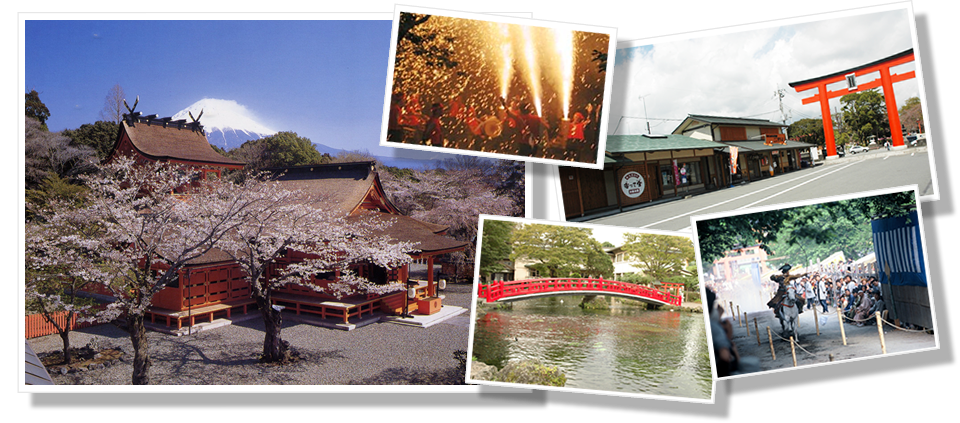 Sengen Grand Shrine(Fujisan Hongu Sengen Taisha)
Fujinomiya has developed around the Sengen Grand Shrine. The shrine is the headquarters of the Sengen shrines around Japan worshipping Mt. Fuji as the deity named Princess of Blossoms (Konohana-sakuya-hime). On the shrine's ground 500 cherry trees are dedicated to her. She is the symbol of beauty and piety thus the guardian of happy home and easy childbirth. Because the town is well-watered thanks to runoff from Mt. Fuji, people come here to pray also for water, safety while traveling, fishing and good harvest, and against fires. The current pavilions were built under the patronage of Tokugawa Ieyasu, the father of the Edo shogunate government, in 1604. Ieyasu's donation enabled the Sengen Grand Shrine to manage the summit area of Mt. Fuji above the 8th station as part of its precincts.
Wakutama-ike, which literally means Pond of Rising Bubbles, is one of the notable structures in the main precincts of the Sengen Grand Shrine. It is a spring of the rainwater and the melted snow of Mt. Fuji that travel through the aquifer made of layers of volcanic rock before bubbling up from the ground. Hence the pond is the end of the ancient lava flow. This large quantity of water flows into Kanda River running through Fujinomiya City. The pond is designated as a special natural monument (tokubetsu tennen kinen-butsu).
| | |
| --- | --- |
| Water temperature | 14 °C (57.2 °F) |
| Water inflow | 120 ton (264,600 lb) per day |
Address: 1-1 Miyacho, Fujinomiya, Shizuoka 41 418-0067 (10-minute walk from Fujinomiya Station)
Nagayamon
Gate Museum of Mt. Fuji

Open hours: 9:00am – 4:30pm

Museum holidays:
Tuesdays,
Wednesdays and Thursdays
Yottemiya
Information Center

Yottemiya Information Center in the parking lot of the Sengen Grand Shrine

Open hours: 9:00am – 4:00pm
Fujinomiya
Tourist Association

(Fujinomiya-shi Kanko Kyokai) on the 1st floor of Fujinomiya Station

Open hours: 9:00am – 5:00pmon weekdays
Asagiri Plains Area

Here you can enjoy pastoral environments such as green prairies with cows. It is also a great spot for sports such as paragliding, hiking and golfing.
Tokai Nature Trail
The Tokai Nature Trail (Tokai Shizen Hodo) is a long walkway of 1,697 kilometers (1,054 miles) from Tokyo to Osaka. In Fujinomiya you can start from Wari-ishi Toge Pass and stop at Lake Tanuki-ko.
| | |
| --- | --- |
| Time Required | 6h 45 min |
| Degree of Difficulty | Easy |
Wari-ishi Toge Pass → 110 min to Suspension Bridge in Nebara Area → 130 min to Suspension Bridge in Fumoto Area → 105 min to Jinba-no-taki Falls → 50 min to Odanuki Wetlands → 10 min to Lake Tanuki-ko-ko
Mt. Kenashi Trekking Course
| | |
| --- | --- |
| Altitude | 1,946m |
| Time Required | 5h 20 min |
| Degree of Difficulty | Advanced |
Trailhead → 40 min to Observatory at Fudo-no-taki Falls → 120 min to Ridge Line → 20 min to Summit of Mt. Kenashi → 50 min to Jizo Toge Pass → 90 min to Trailhead
*Contact Fumotoppara Camp Site to plan for trekking since the course includes private property. Official Website: http://fumotoppara.net/
*Alternative routes available from the Yamanashi Prefectural government
Shiraito Falls (Waterfall of White Threads)
Shiraito Falls is one of Japan's top 100 waterfalls. Spring water of Mt. Fuji falls as thin streams that resemble white threads (shiraito) across the 150-meter-wide and 20-meter-high cascade. There are short walking trails down to the base of the waterfall where visitors can enjoy cool and refreshing mist.

Otodome Falls (Waterfall of Silence)
■ 25 meters high
■ Named so because it once muted itself when two samurai brothers plotted their revenge on their father's enemy
Lake Tanuki-ko (man-made lake)
Lake Tanuki-ko is in the Fuji-Hakone-Izu National Park and is home to one of the greatest views of Mt. Fuji. A phenomenon called Diamond Fuji can be seen when the sun sparkles above Mt. Fuji during the sunrise and the mountain is reflected on the lake. The chance to catch the rare view usually comes both around April 20 and around August 20 for about a week. Lake Tanuki-ko is also great for camping especially in spring and fall.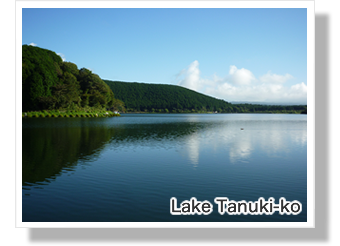 Kodanuki Wetland
■ The only wetland in the Mt. Fuji area
■ 1 kilometer to the north from Lake Tanuki-ko
■ Home to 29 kinds of dragonflies and 72 kinds of butterflies
Asahi Falls (Waterfall of Morning Sunlight)
20 meters high
Shibakawa Area

Five Great Temples of Nichiren School of Buddhism in Mt. Fuji Area (Fuji Gozan)
■ Ueno Taiseki-ji Temple
■ Kitayama Honmon-ji Temple
■ Shimojo Myoren-ji Temple
■ Koizumi Kuon-ji Temple
■ Nishiyama Honmon-ji Temple in Shibakawa Area
Nikko, Nichiren's chief disciple, established temples at the foot of Mt. Fuji to fulfill his master's command. Taiseki-ji Temple was built in 1290 and then Kitayama Honmon-ji Temple in 1298.
Five-storied Pagoda at Taisekiji Temple
■ Built in 1749
■ 33.5 meters high
Nishiyama Honmonji Temple
■ Airing of 4 treasures such as decorative sutras on April 18
■ Ideal place for viewing cherry blossoms and colored gingko trees
■ Lord Nobunaga Autumn Festival in mid-November
Street with cherry blossoms along Inase River
■ 400 cherry trees
■ Utsubusa Cherry Blossom Festival in early April
Terraced Rice Fields in Yuno Area
■ Ideal place for viewing seasonal flowers
■ Reflection of Mt. Fuji on the surface on unplanted rice fields
Water Rafting on the Fujikawa River
6-kilometer-long tour including the Kamaguchi-kyo Gorge