Shiraito Falls (Shiraito Falls and Otodome Falls)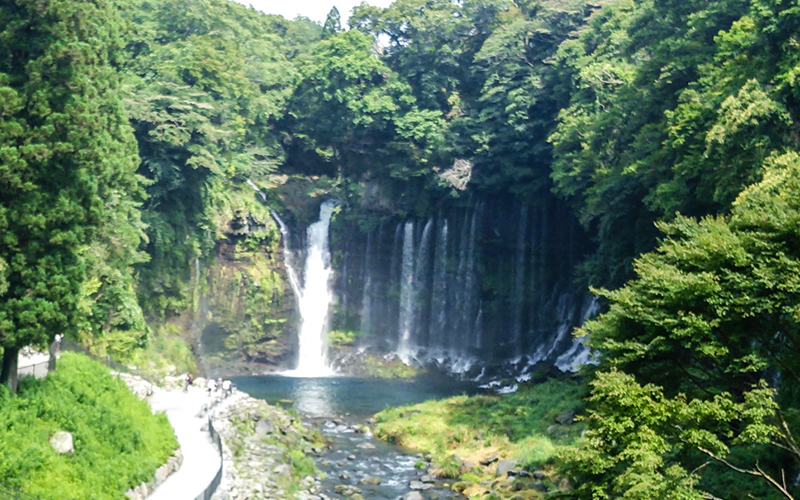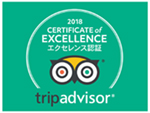 Shiraito Falls is known as the Greatest Waterfalls in Japan.
Clear water is gushing out of precipices between aged Fuji volcano layers and new Fuji volcano layers.
Hundreds of falls including big and small ones flow down from 20m heigh and 150m in width curved precipices. The figure itself looks like plenty of silk yarn flowing down from the precipices.
It has soft and feminine beauty that shows you the fantastic world because of the spring water from the waterfall structuring arched shape once you will see if you go close to the basin. Shiraito Falls is scenic spot and natural monument of Japan. (Selected as top 100 waterfalls in Japan in 1990.)
The History
Shiraito Falls was selected as scenic spot and natural monument in 1936. It was also chosen as "Top 100 tourism spot, The Waterfall section" in 1950. The Falls and the view have been loved by people from ancient times.
It is known as a place where Kakugyo Hasegawa (the founder of Fujiko; the worship of Mt.Fuji) practiced the asceticism and a place of Fujiko pilgrimage as well.
Shiraito Falls
Shiraito Falls which contain the entire falls on 150m in width of curved precipice is springing out from Mt. Fuji, exclude a few parts. You will definitely relax and enjoy nature when you go close. The figure that water flowing down like silk yarn suits the name of Shiraito (means silk yarn in Japanese) and carries you chilly air while it has an aspect of feminine kindness and view. 12 degree water springs out 1.5t every second through a year.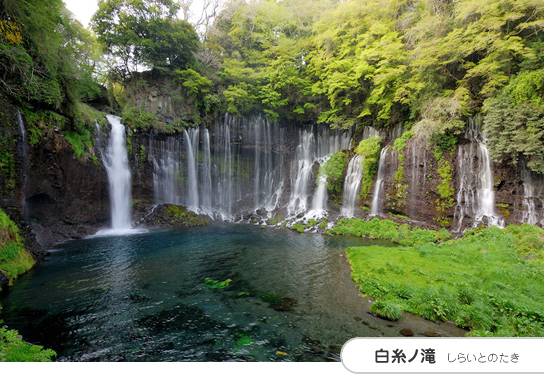 Otodome Falls
On the other hand, Otodome Falls is strong and powerful compared to Shiraito Falls. It has gained much fame because of its powerful and aggresive figure that water flow down from 25 meters high. In the past, Soga brothers discussed the revenge for their father towards Suketsune Kudo near Otodome Falls. However, their voices were disturbed by the Falls noise. They prayed to the god, then the noise suddenly stopped for a few seconds. It is said that this folklore is the reason why it is called Otodome Falls.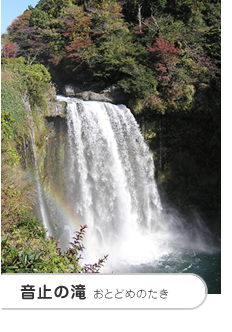 Why Shiraito Falls chosen as one of UNESCO World Heritage Site
Shiraito Falls is necessary site to prove universal value as the worship of Mt.Fuji.
According Fujiko records, Shiraito Falls is a place for practicing, cold-water ablutions and pilgrimages. These are the major reasons that Shiraito Falls was selected one of UNESCO World Heritage Site. Illustration that Fujiko followers drew tells you not only the scenes of practicing at Shiraito Falls, but also the fact that stone monuments are still exist there.
Related Information
Shiraito Falls View Spot
There is the long stairs going down to the waterfall basin. Before the stairs, there are two view spots of Shiraito Falls. The one is in front of the stairs where is close to the stands street (写真①). The other one is located in where you go down to secured pedestrian routes of prefectural road; the right bank and top side of the waterfall. You will be able to enjoy Mt. Fuji behind it if it's sunny.(写真②)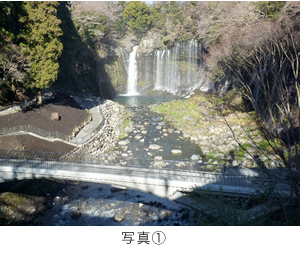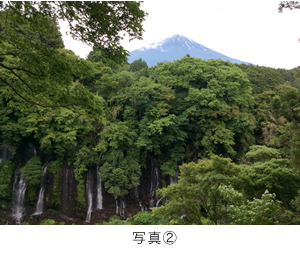 Parking Spaces
The public parking space contains tourist information center and public toilets
Arrive within 5 min walk to Otodome Falls and another 5 min walk to Shiraito Falls.
Wheelchairs are allowed going to the view spot before the 100 stairs.

Number of Parking Vehicles
Passenger Vehicles
105
500 yen
Large-sized Buses
10
1,000 yen
Minibus
5
1,000 yen
Motorbikes
10
200 yen
*Spaces for Handicapped Person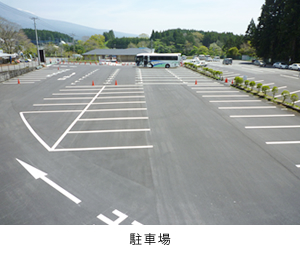 Suketsune Kudo Grave site
Yoritomo Minamoto hold grand hunt in Susono, Fuji-shi with hundreds of thousands of soldiers in May 1193. Soga brothers executed their parent's revenge during that hunt. This became quite famous as the revenge of Soga brothers today.
The Grave site of Soga brothers is at Ganjoji, Yokohama at the moment. However, the grave of Suketsune Kudo is in east side of the upstream; 361 Kamiide, Fujinomiya-shi. Locals try to hold memorial services and keep the site clean.
The event "Suketsune Kudo Memorial Service" is on the same day of April when "Kariyado Sakura Festival" is held, conducted by the local area where tries to keep the grave site for generations.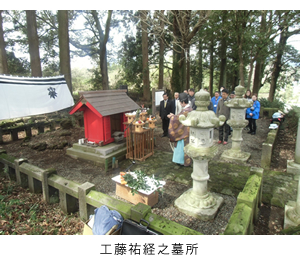 Soga's Hidden Rock
The Rock that Soga brothers had secret meeting for the revenge to attack Suketsune Kudo is in east side of Otodome Falls.
Souvenirs Stands and Maps of Shiraito Falls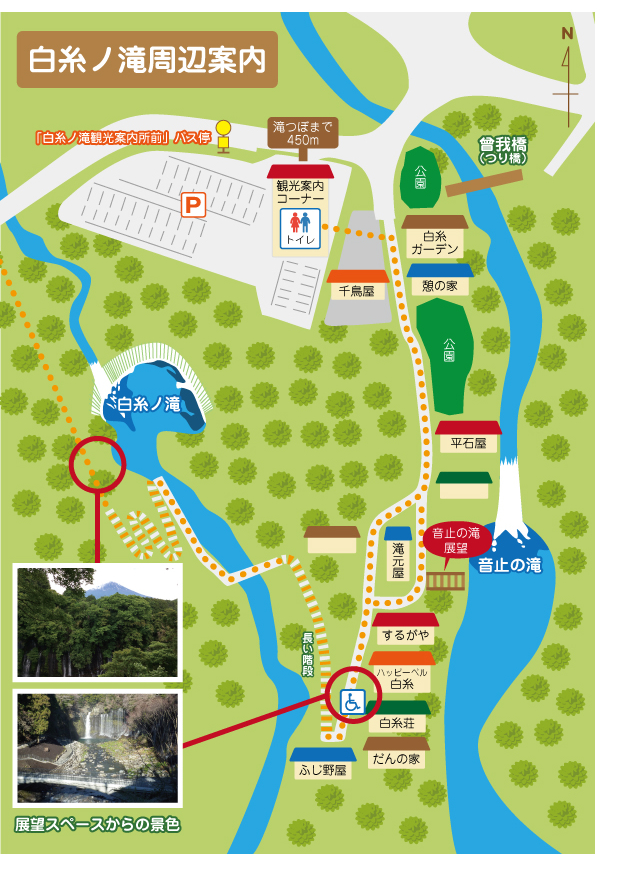 Make Images Bigger
Access
Car; Approximately 30 min from both Fuji IC Tomei Expressway and Shin-Fuji IC Shin-Tomei Expressway
FujiQ Shizuoka Bus; Approximately 30 min from JR Fujinomiya Station
Shiraito Falls Related Information
Events in Shiraito Falls
"Memorial Festival of Suketsune Kudo from Soga Stories and vol.Kusajisi (Kusajisi no Maki)" is held around Shiraito Falls in middle of April, where is noted connection with the revenge by Soga brothers.
Memorial Festival of Suketsune Kudo
The place where Kudo's camp was set when the hunt in Fuji happened, is his grave site today. People in the area come and visit occasionally to keep it clean. Memorial Festival of Suketsune Kudo from Soga Stories is held once a year there.
Vol.Kusajisi (Kusajisi no Maki)
Kusaji-siki started with the practice to shoot the deer shaped target made from grass by arrows because vassals often failed to aim the target during the hunt in Fuji. Kusaji-siki is conducted in the place where the practice was really happened in the past.